Article content
DEAR LADYBALLERS, PARENTS, COACHES & MORE,
It's Carly, Shannon and Alanna, The Founders of SoccerGrlProbs, about to pour our hearts out with gratitude to you! This year (and last), we remain incredibly thankful for your support during some of the hardest times of all of our personal and business lives.
Last year in 2020, when the pandemic hit, our business took a hard slide-tackle. Our National SoccerGrlProbs camps and book launch tour were cancelled. Orders slowed down. Practices, games & seasons were shut down. Overall, the game of soccer hit the pause button, things were quiet, we all felt scared. 

All we could think about was "Will competitive contact sports ever return?  Will we ever get to attend a game safely? Will we ever get to meet up with our fans, friends, and family anytime soon?"
...BUT JUST LIKE YOU, ALL 3 OF US PUT OUR GAME FACES ON AND PUSHED FORWARD, STAYED POSITIVE & PERSEVERED!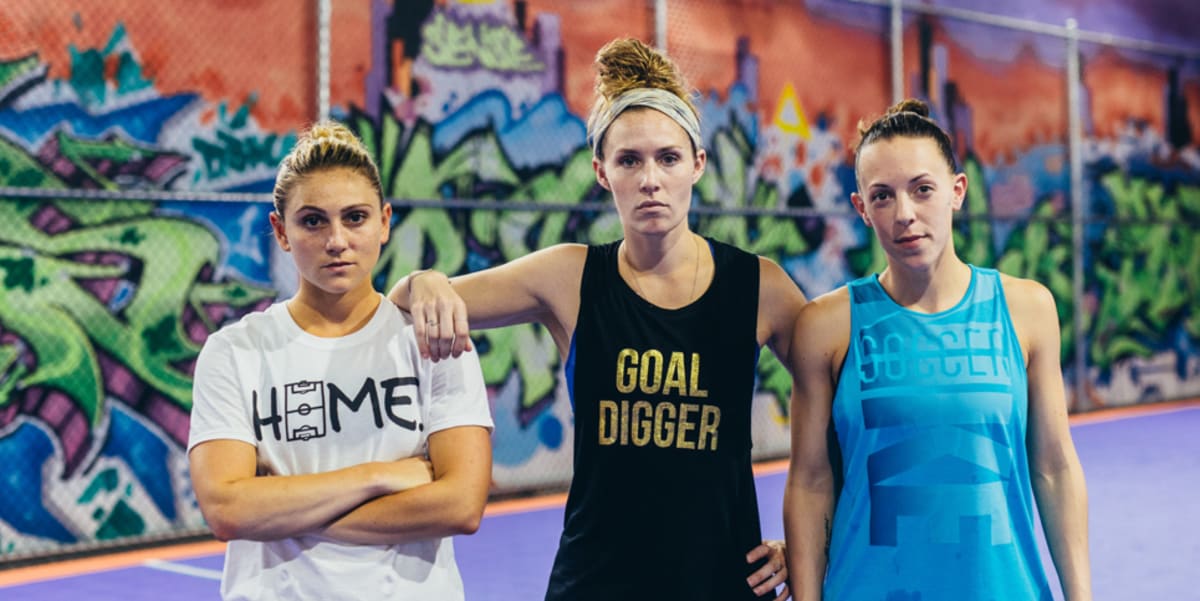 We kept showing up (because that's what you do in life AND sport.)

We put all of our energy into providing value for our community (like our Challenges with the Pros, and our top-rated Soccer Girl Problems Podcast) We wanted to provide everything and anything to keep the community spirits high. That's just what us athletes do though. No matter how hard times may be, you keep showing up ready to tackle the challenges that come our way.
Thankfully, things began looking up in 2021 and now slowly but surely towards the end of this year, we are returning to the normal (and crazy busy) soccer lives that we love and have missed so dearly!!!
You know the saying "You don't know what you've got until it's gone"? We truly felt this the past two years.
Our appreciation for the game of soccer and every single thing that we do with our business for the women's soccer community only grew that much stronger.
Our hunger to provide more value, relatable & hilarious content, empowering apparel, female-athlete specific education, and exposure to the professional women's game grew stronger than ever.
We realized again how badly we love our jobs catering to the soccer players and how lucky we are to wake up every day to use our voice/platform to play a role in building the women's game. 
We've never once forgotten that we wouldn't be anywhere without YOU and your support. Without your likes/comments/retweets/subscribes, personal messages and emails, and apparel orders and reviews...we'd be out of business!
Here's a refresher on how you can continue to support our business and be a part of our incredible community!
Order from our apparel shop (over 160+ products) AND take advantage of team orders through us! *PS. Did you know that we personally ship out your orders? That's what we call a

special

delivery.


Thank you for taking the time to read how we've been feeling and how grateful we are for this community and your undying support for our brand and mission.
Thanks for playing your role in this community and on this team. Now go eat some delicious turkey (You'll run it off later)
See you out on the field,
Carly Beyar Zolga, Shannon Fay O'Connell, Alanna Locast 
PS. Our entire shop is discounted for our BLACK FRIDAY SALE and it begins today, Thursday, NOV 25 at 12pm est / 9am PST. *We're getting the party started earrrrrrly this year!