Posted on February 03 2023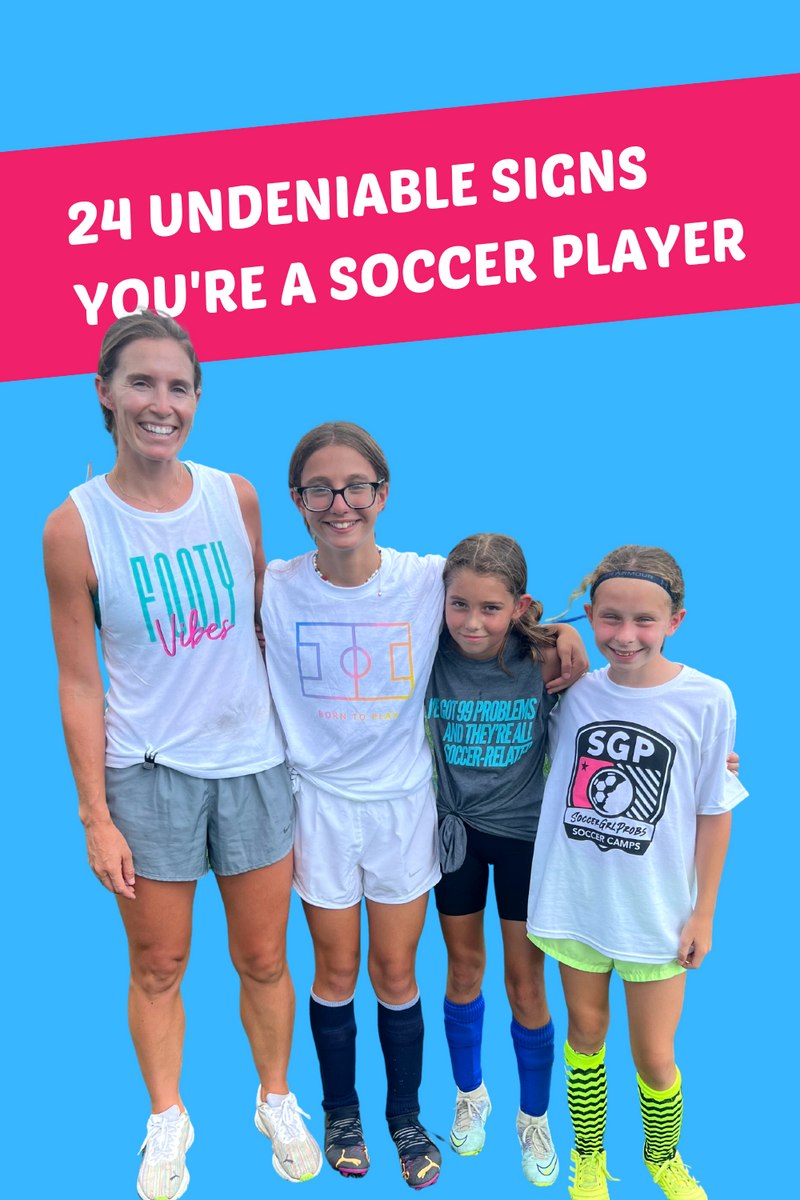 24 UNDENIABLE SIGNS YOU'RE A SOCCER PLAYER
The symptoms and signs are all
there
. You can't deny it!
You're a full blown soccer player. 


#1 You Absolutely DREAD Texts Like This One
Bring running shoes? ::vomits in mouth a little::
#2 Sitting Like A Lady Has Never Been Your Forte
I mean, c'mon. Who has the energy to sit like that all day?
#3 The Pre-Wrap Indent
UGHHHHH. The frustration. Most under-rated Soccer Girl Problem.
#4 You Have A Gatorade Color
"Mom, It HAS TO BE RED. Pretty please."
#5 You Would Describe This Wall Of Cleats As "Heavenly"
You're obsessed. And it's okay. We all get attached to our cleats. 
A soccer girl can never have too many cleats.
#6 You Find Yourself Saying "I Can't I Have Practice" At Least Once Per Day
Your family, friends AND significant other know your answer before they even ask. 
#7 You Understand The True Meaning Of Teamwork
Sometimes your teammate needs you to help.. 
#8 You Gave Up On Skinny Jeans YEARS Ago
There is dust collecting in your jean draw..and you're fine with it.
#9 Your Feet Might Look Something Like This (Viewer Discretion Is Advised)
Hopefully... not this bad though!
#10 You're Constantly Running Out Of Hair-ties
WHAT MAGICAL LAND ARE THEY ALL DISAPPEARING TO??
#11 And Your Wrist Usually Looks Something Like This...
....
#12 You Spend All Of Your Money On Food
#13 You Have An Overly Supportive Soccer Parent

And you're damn grateful!
#14 You've Been On These At Least Once In Your Life
Knock on wood!
#15 You've Avoided Wearing A Dress Primarily To Hide This
And you've secretly tried to put makeup over it...
#16 You'll Ice With Just About Anything
Chances are it's your dinner for the night..sorry mom
#17 You've Gotten Blood On At Least One Of Your Jerseys
#18 You Probably Sport Your Jersey In One Of These Fantabulous Styles
How else would you be able to tell who's who on the field?
#19 You Own White Soccer Socks That Are Stained Red At The Toes
#20 This Is The List Of Your Social Life Plans
#21 You Probably Have Ombre Legs During The Summer
And you bet those tan lines are going to last through winter.
#22 If You Have A Christmas Tree, Odds Are You Have A Soccer Ornament
Or seven...
#23 Your Everyday Outfit Looks Something Like This
Let's be honest, dressing up to go to class is probably not something you have time for. Practice gear it is! OWN IT.
#24 You Relate To This Video On A Spiritual Level