Posted on May 13 2021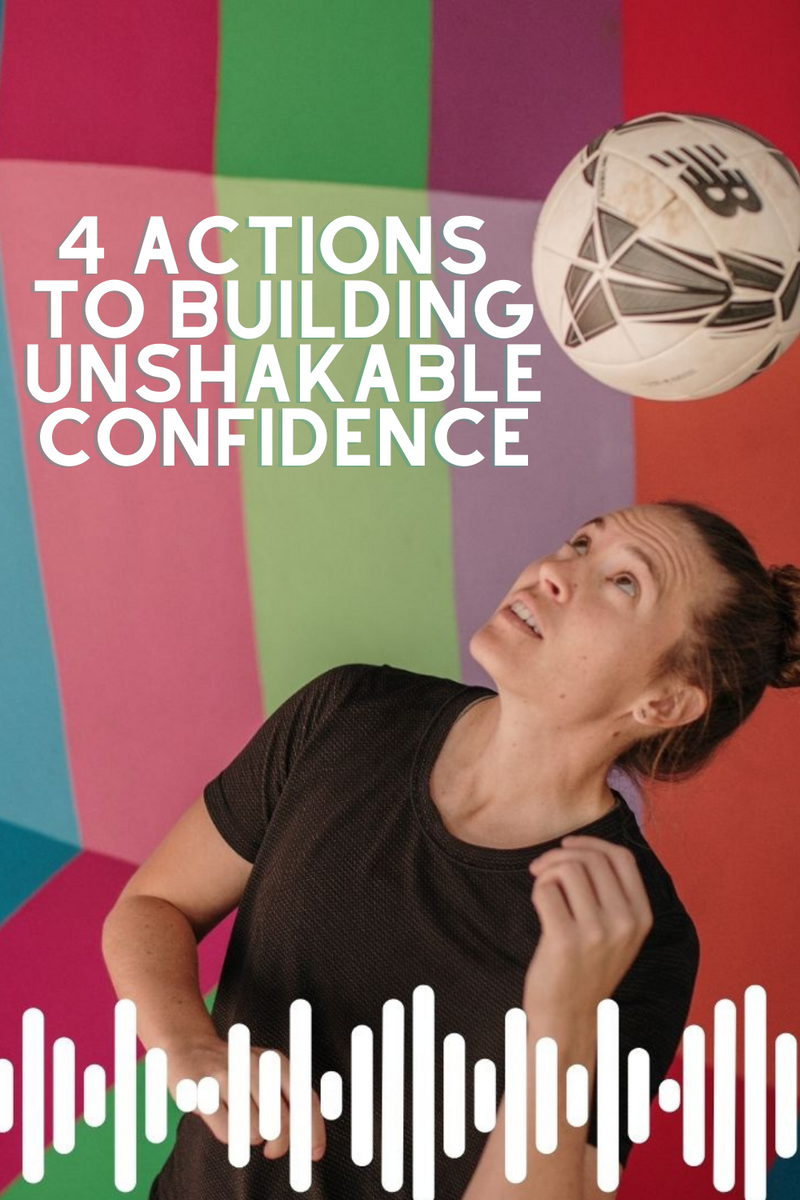 4 Actions to Building Unshakable Confidence
My guess is that like many other soccer girls out there, you're serious about becoming the best soccer player you can be and reaching your full potential. 
But let me ask you this... are you working on every aspect of your game? Are you training both the mental AND the physical?
I'm sure you've heard this before, but if you haven't let's do a quick refresh: "Soccer is 80% mental and 20% physical."
So essentially, we should train that way too, right?
Well, if you're anything like me when I was your age, you probably don't work on your mental game as much as you should. 
And I truly believe that the missing link to high performance, and the single-most common thing that's holding most players back from reaching their full potential is CONFIDENCE.
Fortunately, confidence is a skill and something that can be cultivated and practiced… and once you increase your confidence, everything changes...
You perform better, you have more fun, you become a better leader, you take more chances, and most importantly, you believe that you're capable of anything.
So it doesn't matter if you feel as if you're "already confident" or if you're struggling with confidence – working on the mental side of your game and improving your confidence is vital if you want to reach your full potential.
Let's dive into the 4 actions that you can take TODAY to build Unshakable Confidence
CHANGE THE WAY YOU TALK TO YOURSELF
In order to be the most confident person you can be, it all starts with the way you talk to yourself. 
Think about it...How would a confident person talk to herself? Would she use negative and degrading words to describe herself or would she use positive and empowering words?
You guessed it, she would use positive and empowering words that make her feel good and confident about herself.
Your own voice is the most powerful voice you will ever hear, and you hear it more often than anyone else's. It's important to understand that the way you talk to yourself will be the way you perceive yourself and move throughout the world.
Here's an example: If you tell yourself that you're not good enough to play in college, too slow, or will never become a starter…
Guess what, you won't! 
On the other hand, if you tell yourself that you are good enough to play in college, you can get faster, and you are capable of becoming a starter...
You will do and become those things. 
So how do we change our negative thoughts?
Step 1: Become aware of your negative thoughts
Step 2: Create a new empowering thought that actually serves you
Step 3: Replace the negative thoughts with positive thoughts
But you can't just think it, you have to take action, which brings me to point #2. 
TAKE IMPERFECT ACTION
Confidence comes from results, and in order to get results you have to take imperfect action. 
One common thing that stops a lot of people from taking action is due to the fact that we don't quite believe that we can get the result or outcome that we want. 
But something important to remember is that you don't have to believe in yourself to take action – you just have to be willing to try and take the first step. 
Realize that the more action you take, the more results you'll see and the easier it will be to take action. By taking action repeatedly, you'll start to develop trust with yourself and have the confidence to be willing to try.
When you take action, one of two things will happen:
You'll get the outcome you wanted
OR
You'll get the lesson you needed
...And believe it or not, sometimes the lesson you needed (not getting the outcome) is more beneficial than getting the outcome you wanted.
Which takes me to point #3….
FAIL OFTEN
If you want to get really good at something, you have to train on the edge of your comfort zone. You have to be training so intensely that you're making mistakes, because when you make mistakes, you can respond to them, make changes, and get better (which increases confidence). 
The only way to learn and get better is to get outside of your comfort zone. And when you get outside of your comfort zone, you'll mess up. A LOT. 
Think back to a time when you were training with high intensity… Were you making a few mistakes along the way? Or was it absolutely perfect?
My guess is that there were a few mistakes along the way. 
Failure is the best teacher. We learn way more from our failures than we do our successes. 
The more you fail, the more you can learn, the more you learn the better and more confident you'll be. 
So everytime you mess up, be proud of yourself for being willing to try and for getting out of your comfort zone and then ask yourself "What can I learn from this that'll take me to the next level?"
VISUALIZE
Visualization saved my career. Without it, I would have been stuck in self doubt, anxiety, and most likely still riding the bench. 
So if it worked for me, I know it can work for you too. 
In fact, research has shown that people who imagine themselves performing a task, improve their performance in that task, without physically doing anything (this is powerful stuff).
In addition to helping improve your performance, here are some other benefits:
Decreases stress and performance anxiety

Boosts confidence

Improves self-awareness & clarity
As you can see, visualization has some massive benefits that'll not only serve you on the field, but off the field as well.
So how often should you practice visualization and when should you do it?
The short answer, every day. Or at least before every game or practice. Before games, you can do it on the car ride to the field, right when you wake up, or even the night before if you get really nervous. 
You can also use visualization to help you reach your big dreams and visions. For example, if you want to play for the national team, spend five minutes everyday visualizing what that would look like and feel like. 
Remember that visualization is a practice… and when practiced consistently you will see massive improvements in your performance and your confidence!
About the Author 
Shay Haddow is an expert coach and speaker on confidence and mindset for female athletes. Her mission is to empower girl athletes to build unshakable confidence so they can live and play to their fullest potential.
After overcoming her own struggles with confidence throughout her club and collegiate soccer career, Shay knew that it was her life's purpose to provide female athletes with the mentorship that she wished she had when she was younger. As the host of the Alpha Girl Confidence Podcast, and Author of She the Confident, Shay is widely regarded for her insights on confidence and mindset by parents, players, and coaches around the country.
Follow Shay on Twitter and Instagram and join the waitlist for her new program The Alpha Girl Collective HERE