Posted on February 21 2019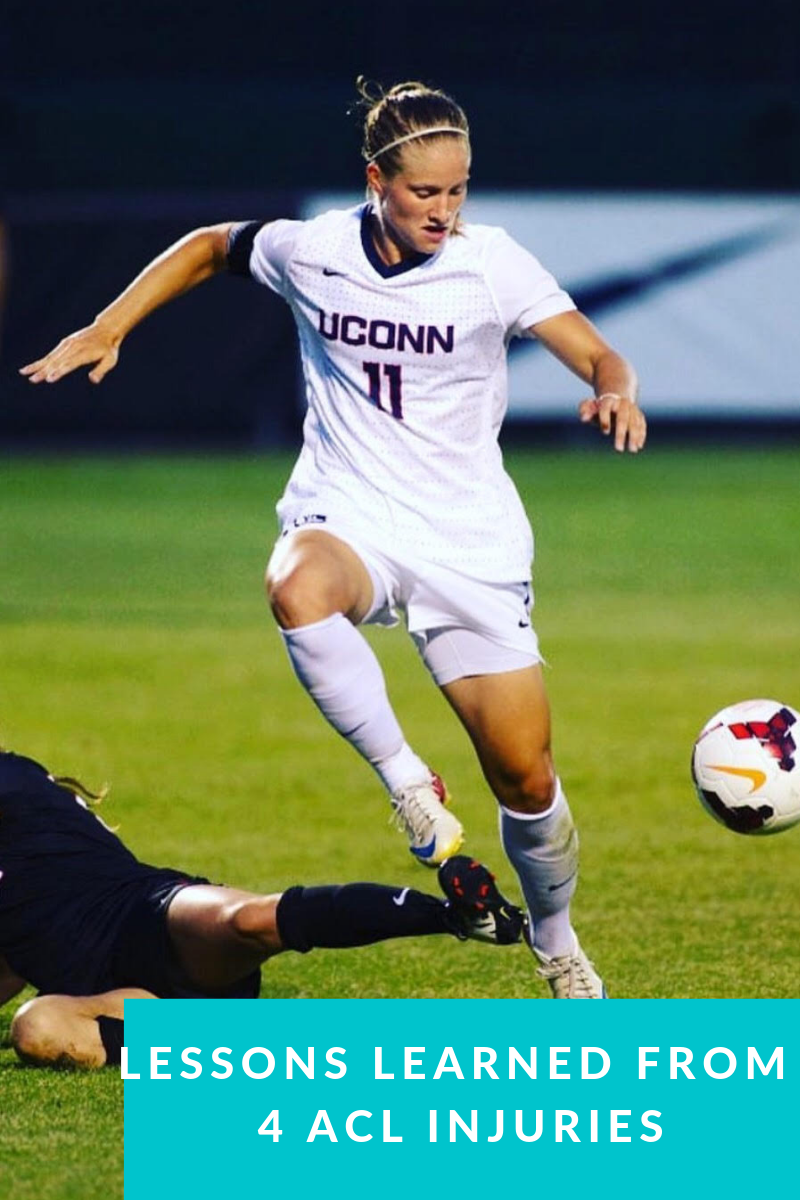 If I had a nickel for every time someone cracked a Bambi, Forrest Gump, or Transformers bionic knee joke, I would be living on a private island somewhere lost in the Pacific. I'd probably definitely also have significantly less student debt. 
My name is Julie, and last year, I tore my anterior cruciate ligament for the fourth time. I can confidently say that if I didn't have bad luck, I'd have no luck at all. But regardless of my trials and tribulations, I had a pretty decent athletic career. Over the course of my nine-year college tenure (#whytho), I was able to 'participate' in six seasons of NCAA Division I soccer, logging time with both the Penn State Nittany Lions and the University of Connecticut Huskies.  
They say that being a college athlete is a full-time job. Try being an injured college athlete. In addition to the forty plus hours of schoolwork, travel, training, video analysis, conditioning, and games I attended every week, I also spent countless hours in the training room with my athletic trainer slash psychologist slash best friend slash mom. And while most students were learning their most important lessons in the classroom, I was learning mine on a treatment table somewhere without cell signal in the basement of Gampel Pavilion.   
When SoccerGrlProbs reached out and asked me to share advice for other Ladyballers going through ACL troubles, I thought long and hard about what I would write. As a now orthopedic physical therapist living in the Boston area, I could easily write a blog about knee anatomy, prehab, graft choice, or early post-op rehab. But I think that any athlete going through ACL rehab would agree with me when I say that the mental recovery is much more difficult than the physical.  
Control the controllables. This is probably my next favorite mantra after $#!% happens. While we can't necessarily control the things that happen to us, we can always control how we react. I distinctly remember my athletic trainer looking me in the eye after ACL #2 and saying, "You have the weekend to be upset, and then we get back to work." That weekend was a tough one, and I'm not sure I can share the details without potentially losing my job and/or being placed in jail. All you need to know is that I survived, I thrived, and I then went on to rehab ACL's #3 and 4.
Soccer has given me my highest of highs and my lowest of lows. I remember walking around UConn's campus with not one, but twostraight leg braces on for my third ACL reconstruction. My surgeon was running out of things to replace my ACL with, so we decided to use a piece of my patellar tendon from my 'good' leg. Instead of explaining that to kids on campus, I usually just posed for their pictures giving them the thumbs up with a forced smile. 
I've learned that people don't understand what an ACL injury means until they're the one going through it. The man who stopped his car to roll down the window and laugh at me "walking" home clearly had no idea what I was going through. Sure – I looked absolutely ridiculous, and in hindsight, hot pink shoes were probably not the best choice. The Velcro straps between my legs often got stuck together, and you could hear me coming from a mile away. But I learned to control my reactions. I learned to have thicker skin (well, kind of). And I learned to be resilient.  
So what is my biggest advice to all you injured Ladyballers out there? Simply follow the rules below and you should be all set:
Be kind to yourself: Give yourself the time. Understand that there will be good days and bad days, and that it is okay to get frustrated. It is okay to be upset. Be patient with yourself.
Always, always, always get back up: After your said allotted time, get back up. Make moves to come back stronger than ever. Find that group of friends, family, teammates, and/or coaches that build you up and surround yourself with them every single day. Confucius once said, "Our greatest glory is not in never falling, but in rising every time we do." Smart dude.
Communicate clearly with others: People are going to piss you off. That's just the bottom line. It is important to maintain your composure. People don't understand what an ACL injury means. Nine plus months of rehab with a couple of tears mixed in between. Educate them on what your injury means to you and on how they can avoid a similar fate.
Stay involved: This might be the most important rule. Go to practices and games. Cheer your teammates on. Be a presence for your team. Don't feel like you can't contribute to the effort just because you can't be the one making the plays. Your time will come.
Never stop learning: This rule, like all of the others if you haven't caught on yet, should be followed for life. You are either getting better or you are getting worse. There is no staying the same. If you can't improve your game on the field, improve it in other areas. Get extra fit. Lift more weights. Eat healthier. Be a student of the game. Study what people do with the ball and think about how to play smarter. You will get your touches on the ball. In the meantime, keep getting better.
Treat yourself: When all is said and done, do not forget to treat yourself. It is going to be a long road, so you better pencil in a few pints of Ben & Jerry's and/or a road trip with your girls. My 'treat yourself' moments 

usually

always get a little bit out of hand, so if you find yourself sitting on a beach in Kauai, more power to you. Whatever you do, do not wish your life away.

  

Trust the process.
After ACL #4, I found myself in a really dark place. I started to engage in a lot of self-discovery, looking for new outlets to express myself. I started traveling more. I joined a boxing gym. I went to acupuncture. I even started to write and created my own website, titled Just For Kicks. With the focus of ACL prevention and performance enhancement, I started to write posts on injury prevention, surgical vs. conservative management, how to cope with the psychological side of injury, and the return to sport process following ACL reconstruction. Before I knew it, I had a large following on Instagram and had people reaching out from across the globe sharing their stories. I started to realize that though I am not able to safely play soccer anymore, I can still contribute to the game I love by helping others stay off the sidelines.
Just For Kicks is currently a non-profit initiative offering pro bono education for players and teams on the importance of ACL prevention. Over the past six months, I have traveled around the state of Massachusetts, offering free educational lectures to different clubs and youth associations, talking to players, coaches, and parents about some of the very real dangers associated with sport. Unlike other programs that often target sports medicine clinicians, it is my goal to make easily understood and 'digestible' content for my audience. I believe that injury prevention/reduction is often overlooked until a player is hurt. It has become my mission to keep players like me in the game for as long as possible.