Posted on August 31 2021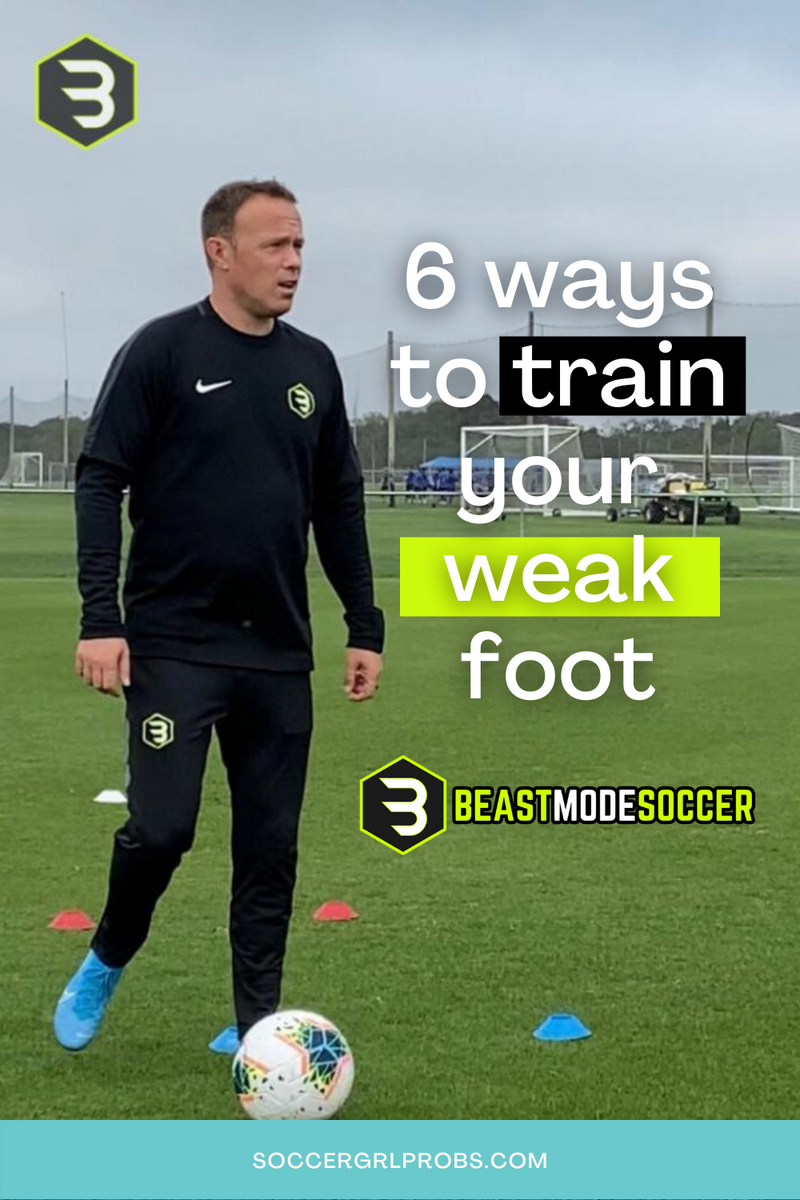 6 Ways to Improve Your Weak Foot with @BeastmodeSoccer
A player who can use both feet proficiently will improve their overall control. A player who uses both feet to dribble will better break away from their opponent than a player who favors one foot over the other and a player who can pass or shoot with both feet is a more lethal weapon on offense. Similarly, a player who knows that they can perform adequately with either foot will be more confident on the field.

How do you improve your weaker foot? Scroll through and find out.
1. Mentality
Prepare yourself mentally that training your weak foot will be difficult. Do not be put off by perceived failure. Get into the routine of training your weaker foot every single day.
2. Juggling
Start by juggling the ball exclusively with your weak foot. Treat the ball like an egg, doing small controlled, quick-paced touches. Be sure to become obsessed with this. Learn how to manipulate the ball with your weak foot. Aim to get 200 juggles a day. 
3. Footwork & Dribbling
What you may notice about every single footwork drill that I post on Instagram is that that they are all done working both feet. Start with some simple patterns and as you get better, start the complex ones. Then move onto our dribbling drills.
4. Target Shooting
Now you feel more comfortable with your weaker foot, it's time to learn how to strike the ball with it. There are no secrets to this. Get a bag of balls, put some cones in the goal and try to hit the cones with the ball. Start at the penalty spot and work your way back. Again, do not get down on yourself..this is hard!
5. Team Practice
I want you to start over using your weak foot at team practice. Yes, you will make mistakes, but this is the quickest way to get comfortable using your weak foot in game situations. Make micro goals before practice to remind yourself. When you keep doing this, it will become a habit and it will be naturally a part of your game.
6. Learn from the Pros
By now, you know that I am obsessed with our players and analyzing our world's top pros. Watch your favorite player, when do they use their weak foot? Do they look like they are even thinking about it? Analyze and find out!

𝙄𝙛 𝙮𝙤𝙪 𝙬𝙤𝙪𝙡𝙙 𝙡𝙞𝙠𝙚 𝙢𝙤𝙧𝙚 𝙦𝙪𝙖𝙡𝙞𝙩𝙮 𝙞𝙣𝙛𝙤𝙧𝙢𝙖𝙩𝙞𝙤𝙣 𝙤𝙣 𝙝𝙤𝙬 𝙮𝙤𝙪 𝙘𝙖𝙣 𝙞𝙢𝙥𝙧𝙤𝙫𝙚 𝙖𝙨 𝙖 𝙨𝙤𝙘𝙘𝙚𝙧 𝙥𝙡𝙖𝙮𝙚𝙧, 𝙟𝙪𝙨𝙩 𝙘𝙡𝙞𝙘𝙠 THIS LINK:
⚽️ Train with me directly, or online
📖 Check out my FREE training programs
📲 Check out my training app @mysoccertrainingapp
🎯 Find a certified Beast Mode Soccer trainer