Posted on December 20 2019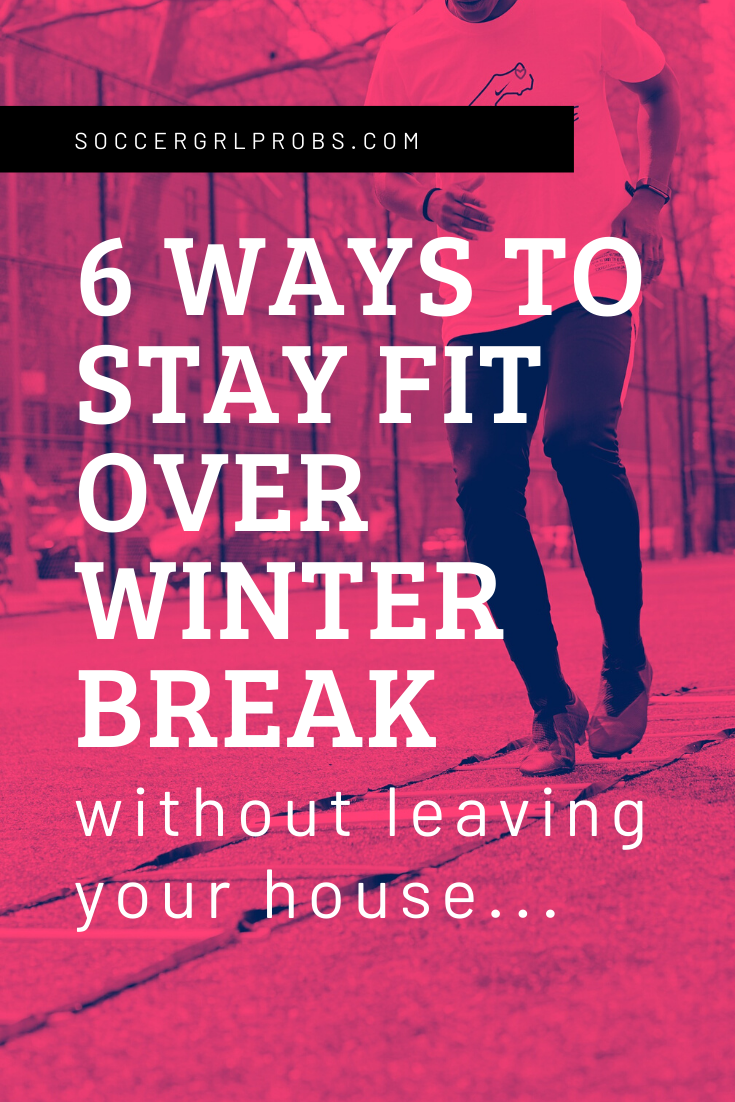 No weights? No gym?  Ladyballer, we've gotcha' covered. Here are our 5 ways to stay fit over without even leaving your house...
1. Get Creative with Furniture Props
You don't need to have a fully equipped gym to be able to conduct a workout inside of your house! It's so easy. Get creative with the props in your kitchen, bedroom or living room and get to work! Here is a fun circuit you can try!
If you have a sturdy chair, stairs, 2 face towels or paper towels (don't worry, you'll clean it) and a heavy suitcase - you're good to go!
*Perform the following exercises 12-15 reps each.
a. Mountain climber-to-plank pike (alternating mountain climbers with one foot on each kitchen towel then use both feet to slide into a pike position - feel the burn)
b. Decline push up on stairs (feet on the first step facing away from the stairwell so that you are doing a decline pushup) 
c. Suitcase Deadlift (with a heavy suitcase or bag)
CARDIO BURST -- 40 SECONDS: Quick toe touches on 1st step (of stairs)
e. Tricep Dips on chair (make sure the chair is sturdy!)
f. Squat-hold to alternating single-leg step-up on chair (use your staircase if your chair is not safe) 
Rest 30 seconds and repeat 2-3x!
________
2. Bodyweight HIIT
When we are in a pinch, we absolutely love bodyweight workouts. They are quick, efficient and all you need is your body and an iPhone timer. This is a great way to get your heart rate up from sitting on the couch all day during your snow day :) 
Set your timer for 10 minutes and complete the circuit as many rounds as you can during that time! 
*Perform the following exercises:
a. 10 Burpee-to-tuck jump
b. 20 V-sit ups
c. 30 pop-out squats 
Count how many rounds you can do in 10 minutes! Once the timer goes off, you can cool down and stretch. The goal is to work as hard as you can within the time period! 
________
3. Speed Work
You don't need equipment or ladders for you to able to work on your speed work! In fact, you can do this in the comfort of your own home.
When we work fast and in confined small spaces, it forces us to be more explosive and adapt to better footwork.
Using a thin towel, or a shirt, or anything that can make a line on the floor...
*Perform the following footwork drills at max intensity for 20 seconds, and then rest for 20 seconds. Perform each 3 times.
a. One foot over the towel, one foot behind the towel -- jump and switch your feet at the same time as fast as you can. The back foot should replace the front foot and the front foot replace where the back foot was
b. Jumps with two feet, forwards over the towel and backwards back
c. Lateral jumps side to side with 2 feet
d. Step-overs over the towel. Starting behind the towel, step over with one foot, then the other. Then step backwards back to where you started one foot backwards, then the other. Perform as fast as possible
2) Using two cones, or two waterbottles or two anything:
*Place the two objects about 5 yards apart from each other and perform the following movements for 20 seconds max intensity and then rest..
a. Side shuffle back and forth between each cone - get low and stay low
b. Sprint forward and back pedal backwards between each cone
c. Shuffle around the two cones in an infinity design 
d. Then reverse the direction of the infinity shuffle
________


4. Unconventional Cardio
Ladyballers, you don't always need a field, track, treadmill or road to get your cardio in! Also, because winter break is time to take it easy...sometimes it's nice not to have to hit the pavement every day! There are so many other unconventional cardio moves that we don't utilize enough...
Jumping Jacks
Burpees
High knees
Butt kicks
Mountain Climbers
Shoulder Taps
Broad Jumps
Jump Squats
If you're stuck inside because it's too cold out, try this indoor cardio workout.
Pick one of those moves for a 10-minute cardio burst at home...
40 seconds on, 20 seconds off for 10 rounds!
5. Core work
Core work can be done anywhere inside of the house, too! All you have to do is just drop down and get to work in the middle of your living room! Try this circuit out:
8-Min Ab Blaster (1 minute per move)
a. Plank-single-arm reach to knee-to-elbow (slow and controlled, alternate)
b. Side plank leg lifts (alternate sides at 30 seconds)
c. Flutter kicks (hold face towel with both hands tightly above you) 
d. V-ups 
Repeat each move 2x for a total of 8 minutes! 
6. Juggling
Last but not least, you can work on your juggling from the comfort of your own home! This is not only a great way to move your body but it's an excellent way to get touches on the ball.
If your parents are pissed you're in the middle of the living room juggling.. Get low! Sit on your butt and get your touches without risking breaking the TV set...
There you have it! 6 FUN and creative ways you can keep your fitness up all from the comfort of your own home during winter break. We hope that was helpful and please let us know if you have any questions!