Posted on August 09 2021
Every player knows that we lose A LOT of water while we are playing, and even more so in the warmer months!

When we become dehydrated, our blood doesn't circulate as well, our brain struggles to send signals efficiently to our muscles, we don't think with as much clarity, our focus can be negatively impacted and we are not performing our best (Not to mention the risk of heat stroke and heat exhaustion.)

Here's your nice little reminder that it is absolutely imperative that we replenish the water in our bodies on a daily basis to feel our BEST, on and off the field.
Here are 8 surprising ways that we can stay hydrated
1. Pinch of sea salt in your water - This helps your body absorb water & remain hydrated for a longer period of time. Sea salt is also loaded with minerals such as potassium & sodium. Hello electrolytessss!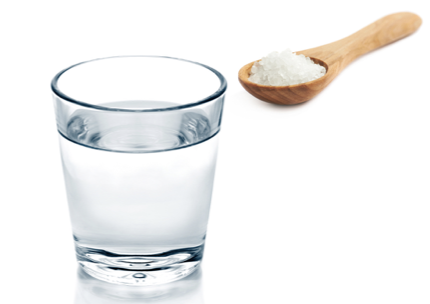 2. Eat your water- Not only are fruits and veggies packed with minerals & nutrients that are beneficial to us athletes, but they are also high in water content! Here are some of our favorites that you should add into your meal routines.
Bell peppers
Broccoli
Celery
Cucumbers
Lettuce
Zucchini 
Melons such as watermelon, honeydew or cantaloupe
Strawberries
Pineapple
Peaches
Oranges
3. Drink smoothies with a water base - What a sneaky way to get more water into your day :) Use water as the base of your smoothies!
4. Invest in a reusable water bottle (and bring it everywhere with you) - We love bringing our water bottles everywhere with us. Not only is it a constant reminder to sip on the water all day but it's also nice to refill the bottle wherever we go!
We sell them on our shop, too! Use code WATER for 10% off at checkout for this one and this one.
5. Drink out of a straw - This seems ridiculous but it actually works! When you drink out of a straw you are more likely to take down more ounces than you would if you were just sipping. The water goes down faster therefore it might help you drink more! *Ps. These are our favorite straws from amazon! 
6. Infuse with flavor (make it fun)- If you are one of those people who need water to be flavored, try infusing your water with fruit and veggies! Honestly, it tastes like SPA WATER. So refreshing! Try out these combos:
7. Drink herbal teas - Not only do herbal teas have so many amazing minerals with benefits, but teas are essentially all water! This is an easy way to hydrate by adding in an AM or PM tea time :) 
8. Dilute sports drinks with water- Last but not least, instead of drinking a full sports drink why don't you try diluting it with water or tons of ice! That's an easy way to get more water into your day! 
We LOVE these tips and personally utilize them every day ourselves! What hydration tip are you going to try today?