Posted on December 17 2019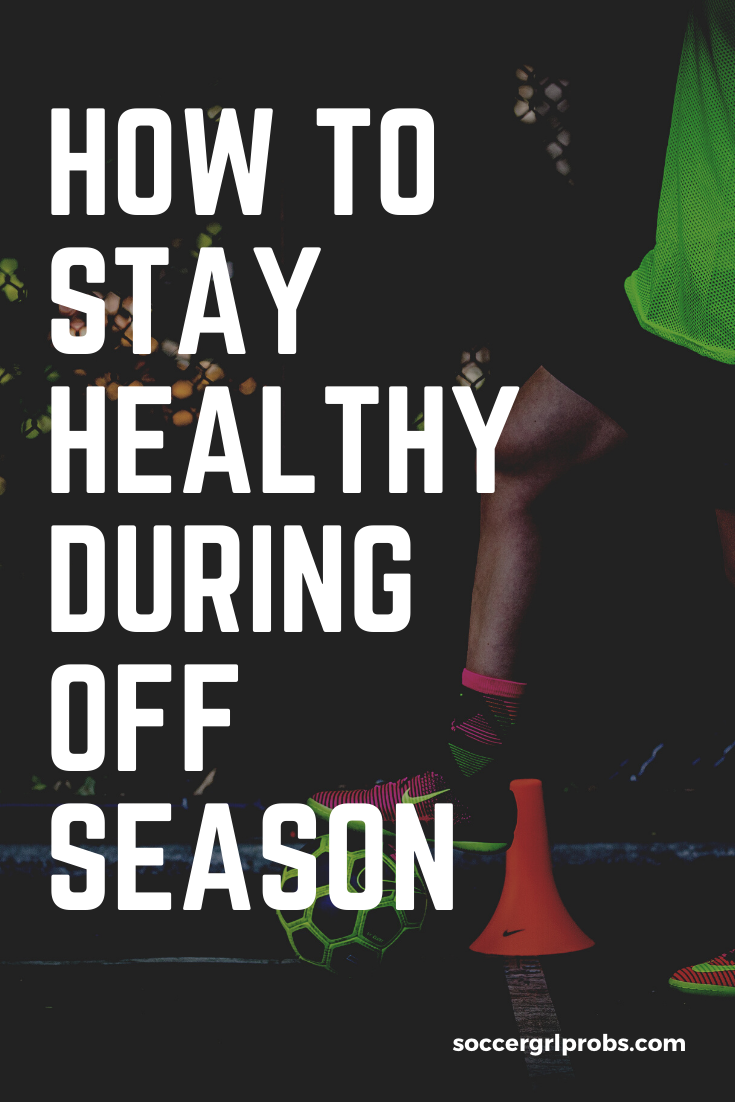 Ladyballers! During this time of the year, some common questions we get asked are:
"How do I stay healthy during my off-season"
"What do I do?"
"How much do I workout?"
"What the heck do I eat?"
Firstly, don't let the off-season be an excuse to throw your good habits out of the window! You'll still want to take care of your body and understand that this as a time to truly recover before heading into the next season.
We also want to challenge you to think about your "health" in ways other than food or fitness! You must take care of your overall life to truly reap the benefits of a happy, healthy and balanced body. 
So here are 4 things we want you to remember to keep you healthy during your off-season...
#1. YOUR DIET IS CRUCIAL BECAUSE WHAT YOU EAT TURNS INTO YOUR CELLS AND AFFECTS YOUR BODY, THOUGHTS, EMOTIONS & PERFORMANCE. 
This is extremely important to remember. Eating a mostly whole foods diet ensures that you're going to recover to the best of your ability and have the energy and strength to complete your workouts, excel in your fitness tests and improve your performance on and off the field (Because don't forget, what you eat also affects your brain and emotions)! 
Now listen up - Of course, we want you to enjoy the holiday season and treats that come with it (like Grandma's famous sugar cookies), however, we'd love to challenge you to upgrade your baking ingredients this holiday season! Your body will thank you for it! 
Here are some ideas to upgrade your ingredients during the off-season:
#2. IT'S INJURY NURSING SEASON
Ladyballers, if this applies to you, this is the PERFECT time to rest your body and heal those nagging injuries that keep resurfacing. It's common in the sport for women to feel like they have to go-go-go and push through the pain, but more often than not we end up suffering from serious long-term injuries because we didn't listen to our bodies!
Our best advice to you is to give your body a much-needed break from the vigorous season workouts and focus more on moving your body in other ways. Cross-training is #MAKORKEY here. 
Here are some ways you can move your body during the off-season:
WALKING
CYCLING / BIKING
VINYASA YOGA
HIKING
HIIT
STRENGTH TRAINING
LISS / RUNNING 
#3. CLEAR YOUR MINDSET AND WORK ON YOUR MENTAL GAME
In our experience, we've noticed that ladyballers tend to forget about their mental game sometimes! Your mindset is absolutely crucial to your health as an athlete. Being able to clear stress and chaos out of your mind in a healthy way is important for you to work on as an athlete.
One way we like to do that is REFLECT and write it all down. It's a healthy thing for you to work on and the off-season is the PERFECT time for you to focus on things "pen-to-paper".
We highly suggest you reflect on your past season performance and ask yourself:
How do I feel about my overall performance?
What could I have done better?
What are 3 things I can work on and what are the steps I should take?
What are my goals for next season?
From our experience, sometimes focusing on things OTHER THAN fitness and food creates a healthy balance for stressed-out student-athletes. Buy an inspiring notebook and get to work!
#4. ENJOY. YOUR. PRECIOUS. TIME. OFF.
Hey, you know this time is RARE. Seriously savor every second you don't have soccer duties and responsibilities because you know as soon as you head back to school - it's BACK TO WORK. 
We highly suggest you spend time on other non-soccer hobbies! The following ideas are ones that we love to do because they are natural destressers too! 
Here are some ideas you can try:
If you are an artist, buy a coloring book and sketch, color and paint!
If you love music, go make new playlists and walk to music.
If you're crafty, head to Michael's and create cool projects as gifts for your family.
If you're a socializer, go hang with your friends or spend more time with a loved one
If you're a foodie, get in the kitchen and try to recreate some healthy recipes from Pinterest!
If you like media, watch TV or binge on some new shows.
Truly take the time to do OTHER THINGS that aren't about soccer. Your brain, BODY and emotions will thank you for it.
_________
Please don't forget these 4 things during your off-season! We promise it will help improve your overall health as a student-athlete. You got this, girlfriend!