Posted on September 16 2020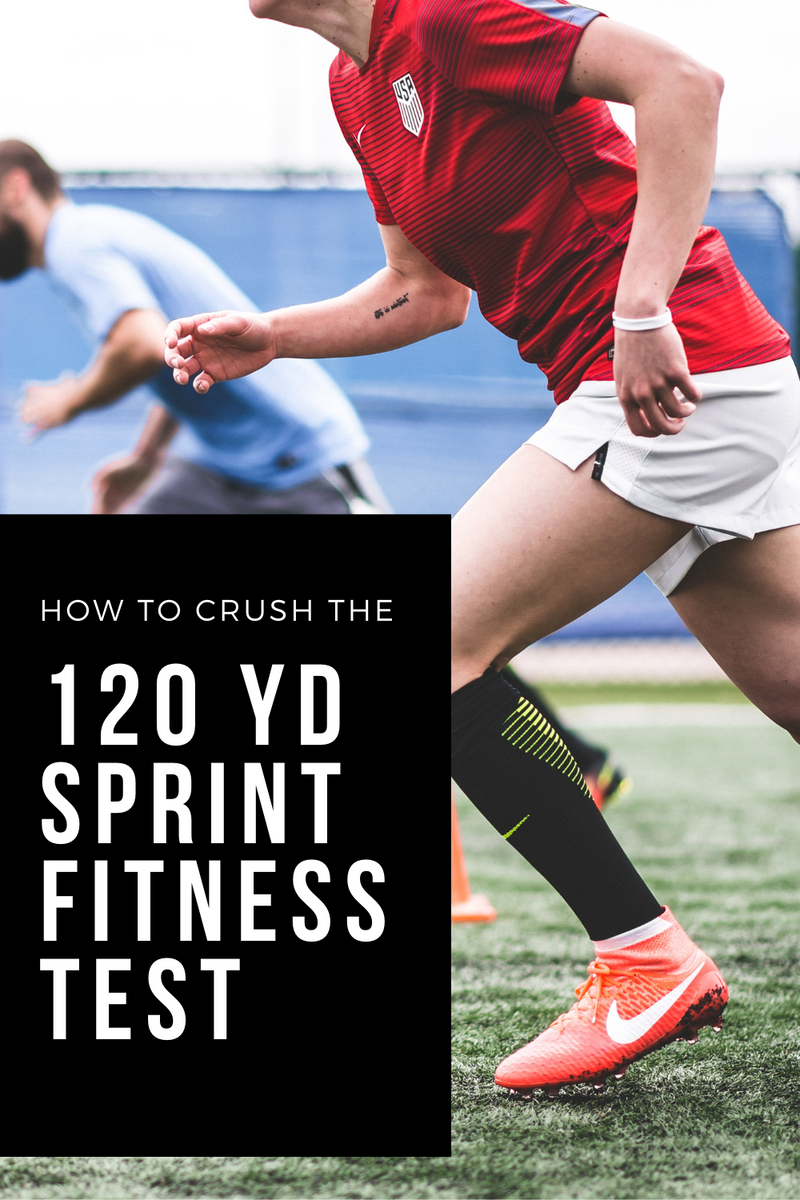 Does fitness testing stress you out? Our Crushing Your Fitness Tests eBook is the perfect handbook to get you more prepared and LESS anxious! We cover the 11 MOST POPULAR FITNESS TESTS including the beep test, yo-yo test, 1 mile, 2 mile, 300 yard shuttle, Man-U test, pro-agility and MORE! Here's a sneak peek of one of the fitness tests we go over in the book. If you have fitness testing with 100s or 120s, this is for you!
120s TEST DESCRIPTION/RULES:
In this test, you will be required to sprint the length of a soccer field (typically 120 yards) as fast as you can, with the remainder of the minute for rest. Coaches will typically give you a time you need to complete each sprint in and you will perform this until you are unable to make the time.
WHAT THIS TEST IS TRAINING:
This test is training your anaerobic capacity and your body's ability to recover quickly! (Every time you read anaerobic, we want you to think about an activity that is high intensity and usually shorter in length.) Sprint speed matters, as the time to complete the sprint will be challenging!
TIPS WHILE TAKING THE TEST:


Focus on one sprint at a time. Do not get consumed by how many you have left.

Speak positive thoughts to yourself during rest. Be proud of every sprint you complete and make sure the voice in your head during rest times is one that keeps you focused and motivated.

Running efficiency matters! If we run in a way that wastes a bunch of energy, we are making the test harder than it needs to be. Do not run heavy footed or heel-to-toe. Instead, strike the ground with your midfoot. 

Do not let your arms work against you. Keep them at 90 degrees and move them in a linear forward direction. Don't let your elbows flare out to the sides.

Do not be overly tense. Tense shoulders and neck and head along with being bent over, restrict your breathing and will prevent you from running the most efficiently.
TIPS WHILE TRAINING FOR THE TEST:

Go out and run the test! Get someone to time you if you would like and go see how many 120s you successfully complete before not making the time. This will help determine if you need speed work because you have trouble sprinting the 120 in the necessary time, OR if you need to work on your anaerobic endurance and your ability to perform the sprint multiple times without fatiguing fast.
TRAINING SESSION SUGGESTIONS:
If sprint speed is an issue

(such as you're barely making the first sprint time), you need to do some speed work. This could involve sprinting distances such as 20 yards, 40 yards, 100 yards and 150 yards. Each length should be sprinted as hard as you possibly can, with 2-3 minutes rest between sprints. You want your body to fully recover, so you can get repeated work producing maximum power. It will feel like a lot of rest, but THIS IS HOW YOU GET FASTER! You can do ten 20 yards sprints, eight 40 yard sprints and six 100 yard sprints for example.



If you are having trouble recovering from one 120 yard sprint to the next

, you need to work on workouts where you control the rest intervals. Workouts with a 1:1 or 1:2 work to rest ratio will be ideal because they are specific to this test. We want to control the rest and keep it very short when training for this test, so we build our body's adaptation to recover quickly and in shorter periods of time. You can build to this point by starting with workouts with a 1:3 work to rest ratio, then 1:2 and eventually 1:1.


Strength training. Like mentioned above, total-body complex movements like the squat or lunges or weighted step ups can be extremely beneficial when performed correctly. Explosive plyometrics like med ball throws, broad jumps and hill sprints also tap into our body's ability to produce power. Having strength and power allows us to run faster and better accelerate. Muscles to focus on: quads, hamstrings, glutes, calves and your core.
Check out our Crushing Your Fitness Tests eBook for training suggestions and tips on ALL OTHER FITNESS TEST! Let's take the anxiety our of fitness testing!