Posted on May 17 2022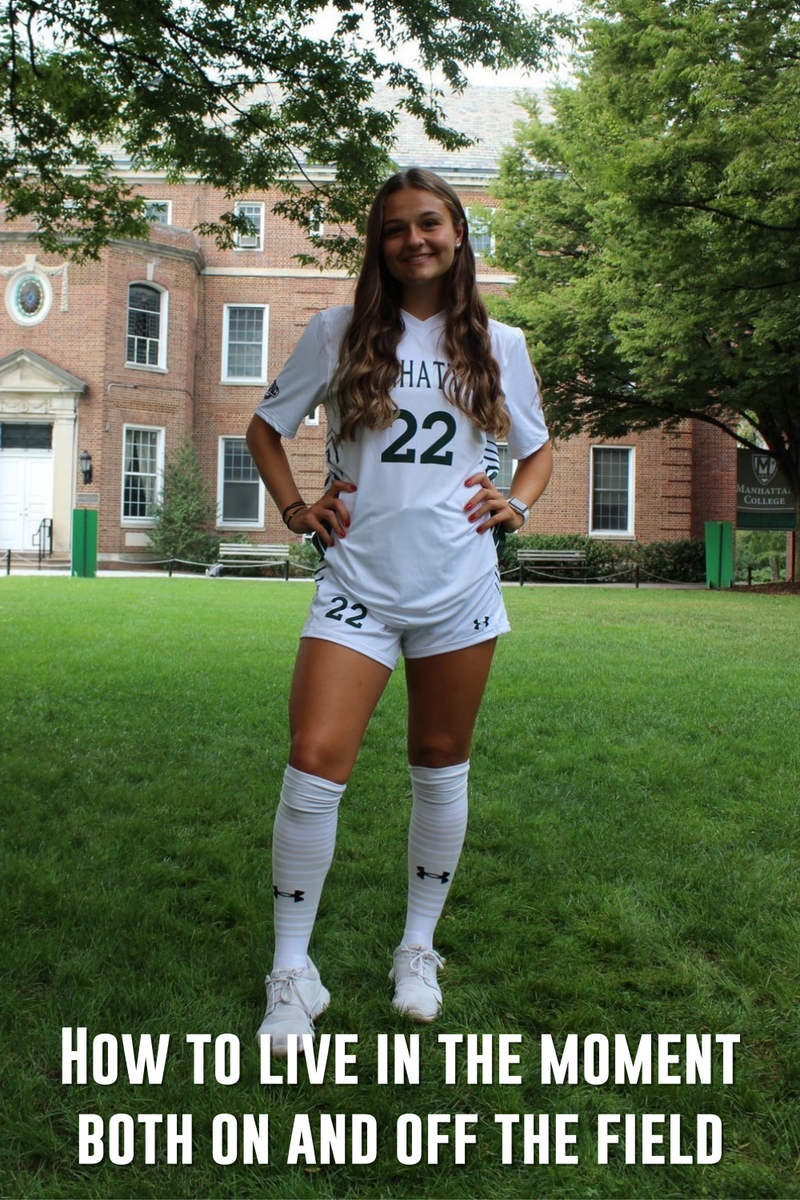 How to live in the moment both on and off the field
Every day is a new chance to make an impact, reach goals and perform to the best of your ability. As athletes we know that every time we step on the field we need to perform at a high level and we need to prove ourselves. This unspoken rule affects players differently. This may cause some to crack under pressure and others to rise above and thrive. Why is there such a disconnect in the way this directly affects certain individuals? 
Personally, I have always struggled with confidence on the field. I have always had people around me constantly praising me and believing in me and there is just some block that holds me back. With that, my performance is often overthought. I  have caught myself in the middle of a game completely lost. I would be playing but never fully being in the moment. I was never able to trust my abilities and what I know and was just going through the motions. This is never intentional. At times there is so much running through my brain that I end up lost. I have to make that highlight reel play, I have to impress and I have to make an unbelievable impact. The more games I have gone down this road walking off the field barely even remembering what just happened has honestly gotten me fed up with this mindset. I GET to play soccer, I GET to display my skills every time I step on the field and I GET the chance to create plays each practice and game. I have realized that the only way to possibly meet my fullest potential is to be present in the moment, take deep breaths when I begin to get overwhelmed and quickly move on from mistakes to ensure they don't carry over into the next play. You are in control of whether or not you let your mistake take over you and ruin the rest of your game.
 I have always been very "need" based. This has been one of my greatest strengths and weaknesses. It has made me resilient but has also left me disappointed when I'm unable to hit unrealistic goals because of my overarching high expectations and the pressure I put on myself. 
The true turning point for me was my senior game in High School. Knowing that my high school soccer career has (has or had or was coming to an end) just come to an end was an extremely hard pill to swallow. I felt like I didn't even remember it only seconds after it had just ended merely because I wasn't confident enough to take that player on, I wasn't happy enough with each game and I felt that there was more that I could do each time I left the field. Each time I stepped on the field I gave it 110% of my effort. I am confident in that, but it was never enough. You should always aim high and set big goals for yourself but always be realistic. Set goals within each day and celebrate your victories. Begin each day making your bed and setting 3 goals for your day. Worst case scenario you end the day with only one win, still more than none. It is a mindset shift that everyone needs to be able to make for themselves in order to make the most out of every single day, practice and game. 
About the Author: Nicolette Caneda plays division 1 soccer at Manhattan College. She is a psych major with aspirations to get her masters in sports psychology one day.  Her goal is to use her own struggles and experiences to help and teach others!