Posted on November 02 2020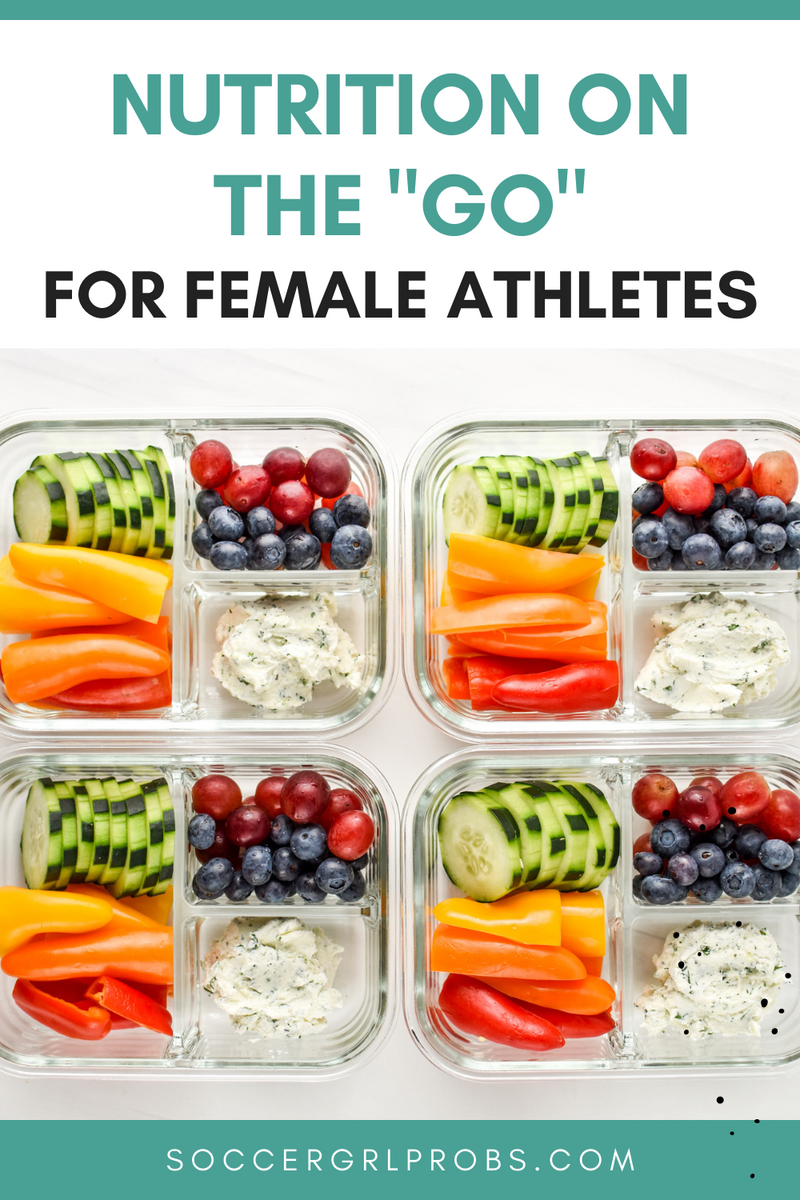 Soccer season means weekend games, long bus rides, overnight stays in hotels, early mornings, and late nights not in the comfort of your own home. Although these trips give you the best memories with your team and heighten that competitive feeling, they could have a serious impact on your performance nutrition…if you're not prepared. Traveling often involves having a meal at a restaurant, grabbing fast food, or eating in the car on the way to the field. While it is not always easy to eat nutritiously on the road, it is possible!
Proper nutrition for athletes is so important for performance and recovery. Particularly for soccer players since soccer is a very physically and mentally demanding sport. With only one break in 90 minutes and running some serious mileage throughout a game, you want to be on your A-game no matter the conditions!
Here are a Registered Dietitian and former collegiate athletes' 5 tips for Nutrition on the GO:
1. Come Prepared — BYOB style!!
Being prepared for overnight trips is key. Bring easy to pack items for the drive/flight, and food to keep in your room to ensure you have the right fuel available…or in case you are not down for the gas-station lunch in the middle of nowhere. Try to focus on protein-packed snacks for the travel day to keep you full & to prevent mindlessly munching while travelling. 
Pro-tip: Keep what you need for the ride in your carry-on and pack the rest of your snacks in your suitcase at the bottom of the bus, this will prevent you from eating your whole stash on the ride there!
2. Know your schedule & try to keep your pre/post game routine similar to home games.
Athletes are creatures of habit; when you find what works for you (or what you ate before you scored 2 goals) you usually stick to it. That doesn't have to be any different on the road and it's probably best that it isn't! Eating similar food you would for home games or for practice will help limit your chances of GI upset, fatigue or feeling sluggish during the game.
Figure out the weekend schedule BEFORE you head out on the road, so you know what foods you need to pack, when you need to eat out, and what recovery snacks to have on hand. Research what restaurants, cafes, and grocery stores are in the area so you are able to make informed choices.
Which brings us to tip #3.
3. Do your homework before eating out
Eating out at restaurants while on away trips is inevitable. That doesn't mean you have to throw all your nutrition knowledge out the window. You are still an athlete fuelling up for a game the next day, whether you're eating at home or at The Cheesecake Factory.
Keep these tips in mind while eating out:
Review the menu ahead of time and choose a meal that fits your nutrition needs.

Try to stay away from the greasy burgers + fries or deep dish pizzas. Choose quality carbohydrates such as rice, pasta and whole grain bread. Include lean protein such as chicken, beef, fish, beans or tofu, and add steamed or raw veggies.

Avoid the sweetened beverages like pop or alcoholic drinks. Order multiple water pitchers for the table so the whole team can stay hydrated.

Watch your portions. Restaurants tend to go heavy on the portion sizes, so don't feel the need to clean your plate (unless you're hungry…then eat up!). Bring the rest back to the hotel and have it the next day for lunch!
4. Convenience is key
Travelling is the perfect opportunity to use supplements to make your life a little bit easier while on the road. Supplements like protein powders & bars, magnesium, BCAA's, electrolytes & sport drinks can all ensure you are not compromising your performance nutrition due to the inconvenience of travelling.
One of my favourite products to have on-hand while travelling is Biosteel. This is a great hydration & recovery product for athletes playing long or multiple games in the heat. It provides electrolytes to adequately rehydrate and amino acids to repair muscle after they have been broken down. Also, it tastes great making it much more enjoyable to replenish all the water you lost during the game!
Speaking of re-hydrating…
5. Hydrate, Hydrate, Hydrate
Soccer players can lose 2–3% of fluid loss during a game and a loss of >2% of fluid can negatively affect your performance — particularly endurance, speed, skill execution and decision-making. Dehydration also becomes an issue when travelling by bus/flying and water might be tricky to come by on the road or in the hotel.
Pro-Tips:
Split a case of water or a big water jug between your roomies to always have water available in the hotel room.

Bring multiple water bottle for the bus ride and refill at rest stops.

Keep an eye on urine colour — aim for pale yellow to clear urine colours!

Aim to consume 5–10ml/kg bodyweight over a 2–4 hour period before exercise to achieve the pale yellow urine colour.
And finally… don't compare yourself to your teammates — you'll be in close quarters with your teammates while travelling which means you will be seeing what they are eating, how much they're eating and when. Maybe they have 1 slice of toast in the morning when YOU KNOW you'll be starving and have zero energy mid-game if you don't have 2 or 3. Trust what works for you and for your body, and don't worry if your fuelling regimen is different. Nutrition is individual to each athlete so what works for one girl on your team might not get you through the game!
Alright, so now you are ready to hit the road, fully fuelled, and ready to rock those weekend away games!
___________________________________
About the Contributor:
Stefanie Di Tella, MScFN, RD. Stefanie is a former collegiate athlete from Canada, playing soccer at The University Of Western Ontario for 5 years. She graduated with her Master's of Science in Food and Nutrition and is now working as Registered Dietitian specializing in sport nutrition.
Instagram: @fuelwithstef
Website: sditella.wixsite.com/fuelwithstef