Posted on August 06 2019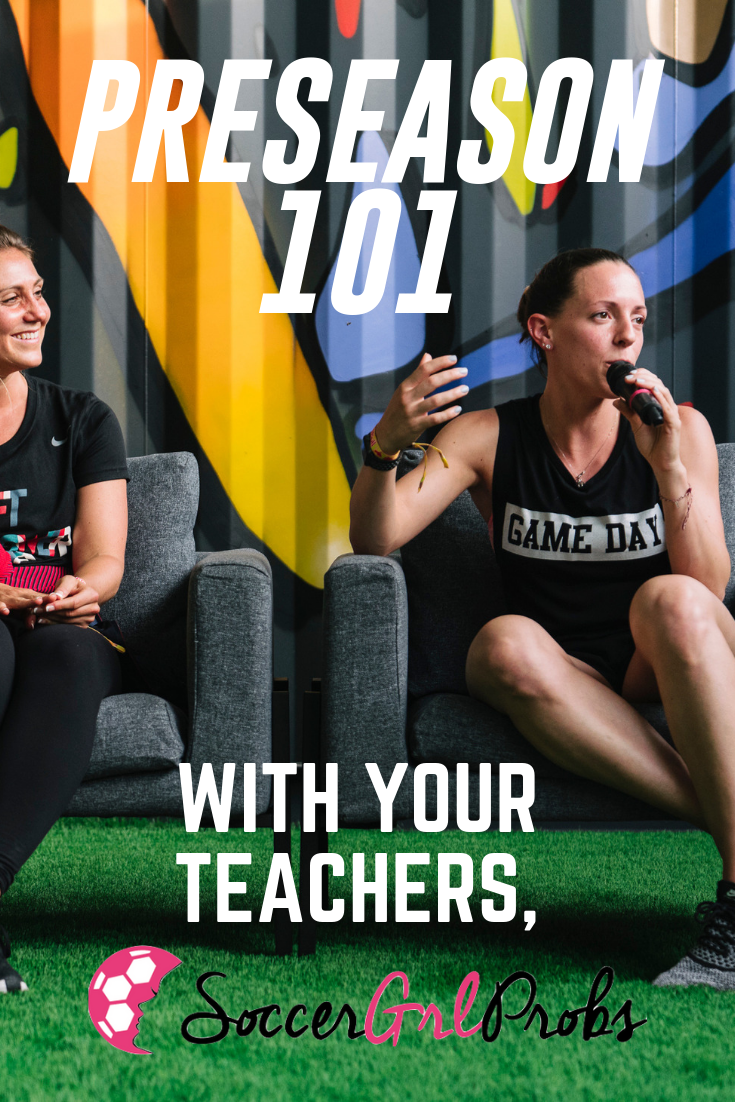 Ladyballers! Tis the season..preseason, that is! We have been getting a ton of questions from high school and college-bound ladies lately. A lot of you are wondering, "HOW THE HECK DO I PREPARE FOR PRESEASON" especially with your fitness, recovery and diet. We're here to give you some good advice based on our own personal experiences AND things we wish we would have done [also, you need to listen to this]. Alright, take out your pen and paper. It's time for class.

LESSON 1: FITNESS
HOW DO I START GETTING IN SHAPE FOR PRESEASON?
Make a plan.
Follow your fitness packet.
Ask a veteran player.
Workout with a teammate.
HOW DO I SURVIVE FITNESS BEING A GOALKEEPER?
Don't use "goalkeeper" title as an excuse to why you are not fit.
Make time to do extra cardio during the week.
After every practice, spend 10-15 minutes doing fitness.
If you want to be an elite player, you need to be just as fit as the rest of the team! Everyone will hold themselves to the same standards.
HOW CAN I IMPROVE ON THE BEEP TEST / ANY FITNESS TEST?
Practice. Again, and again, and again.
Count the yards correctly [double check].
Run the beep test with someone faster than you.
Cross-train with other fitness workouts like intervals, sprints and other forms of cardio like cycling, swimming, jogging etc. 
Always set goals - Try to beat your previous time. 
IS IT OUR JOB TO GET FIT OVER THE SUMMER OR IS THAT WHAT PRESEASON IS FOR? 
You must do the work over the summer to come to preseason fit. End of story.
Coach wants to see that your heart-healthy and ready to play 90 minutes. He does not thrive off of "fitness sessions". He wants you to do that work before you come to preseason so that he can focus on the soccer-aspect of the game [like technical skills, shooting, field shape, etc] 
The key is to find the healthy balance - Don't overwork yourself and burn yourself out at the start of preseason. 
HOW WOULD YOU RECOMMEND GETTING A FASTER MILE TIME?
Collect data. If you practice it more than once, write down your time and always aim to beat that previous time.
Interval Training. Strengthen your endurance and your heart by adding in periods of rest time followed by periods of hard work. 


LESSON 2: RECOVERY
WHAT IS YOUR FAVORITE AND MOST EFFECTIVE WAY TO RECOVER?
Ice baths.
Foam rolling.
Stretching during cool down.
Anti-inflammatory diet.
LESSON 3: DIET
WHAT ARE YOUR BEST HYDRATION TIPS? 

Bring reusable water with you wherever you go. 
Add sea salt to your water.
Drink coconut water.
Eat more veggies. They are filled with water!
WHAT IS THE BEST DIET PREPARING FOR PRESEASON?

First of all, there is no one-diet-fits-all plan. You need to experiment what works for you. That being said, we highly suggest the following:
Focus on eating whole foods from Mother NATURE [fruits, veggies, clean protein, complex carbs]. 
Minimize processed and inflammatory foods like sugar and alcohol! 
Eat enough calories [from healthy foods]. Think of the food you are eating as the gas needed to fuel your tank [aka. your body]. 
WHAT SHOULD I EAT IN BETWEEN SESSIONS?

Again, you need to experiment before preseason what foods make you feel your best.
If you don't know, a good start is to focus on foods that are easily digestible like carbs and protein. Ex. Rice cake with peanut butter, Bananas, Apples, a handful of trail mix, dried mango or apricot, clean protein bars like RX bars, dates, watermelon. *Try not to overdo the fats because it takes longer for your body to digest and can make you feel sluggish!
WHAT ARE THE BEST FOODS TO EAT FOR CRAMPS?

Bananas are always the go-to but feel free to switch it up!
2 slices of watermelon contain more potassium than a banana! 
Kiwis
Coconut water
Pomegranates
Spinach
Avocados


LESSON 4: MINDSET
HOW DO I STAY MOTIVATED?

Goal-setting. Journal your BIG GOAL of the season. Break it down into smaller milestone goals. The more you are reminded of your goals, the more motivated you can be to achieve them. It also helps keep you on track!
Good music. Make an awesome playlist to pump you up every day. 
HOW DO I STAY POSITIVE WHEN THINGS GO WRONG?

Did you fail the fitness test? Are you convinced you are destined to be a bench warmer? Doubting yourself entirely? Seriously...it all comes down to the thoughts and stories you tell yourself. If you are constantly speaking to yourself negatively, do the following:
Step 1. Write down the negative thoughts and "story" that you are telling yourself.
Step 2. Now FLIP THE SCRIPT. How can you reframe the sentence to be positive?
Step 3. Write it on a post-it note and put it on your mirror. Read it aloud every day. You're already one step closer to crushing your day with a positive mindset. 


LESSON 5: BIGGEST TAKEAWAYS
JOURNAL / COLLECT DATA ABOUT YOUR PROGRESS. SET GOALS FOR YOURSELF THEN TRY TO BEAT THEM
EAT A HEALTHY DIET FULL OF FRESH VEGGIES, CLEAN PROTEIN, AND COMPLEX CARBS. EAT ENOUGH CALORIES!
HYDRATE, HYDRATE, HYDRATE
STAY POSITIVE. YOU'RE ALL IN THIS TOGETHER.