Posted on February 18 2021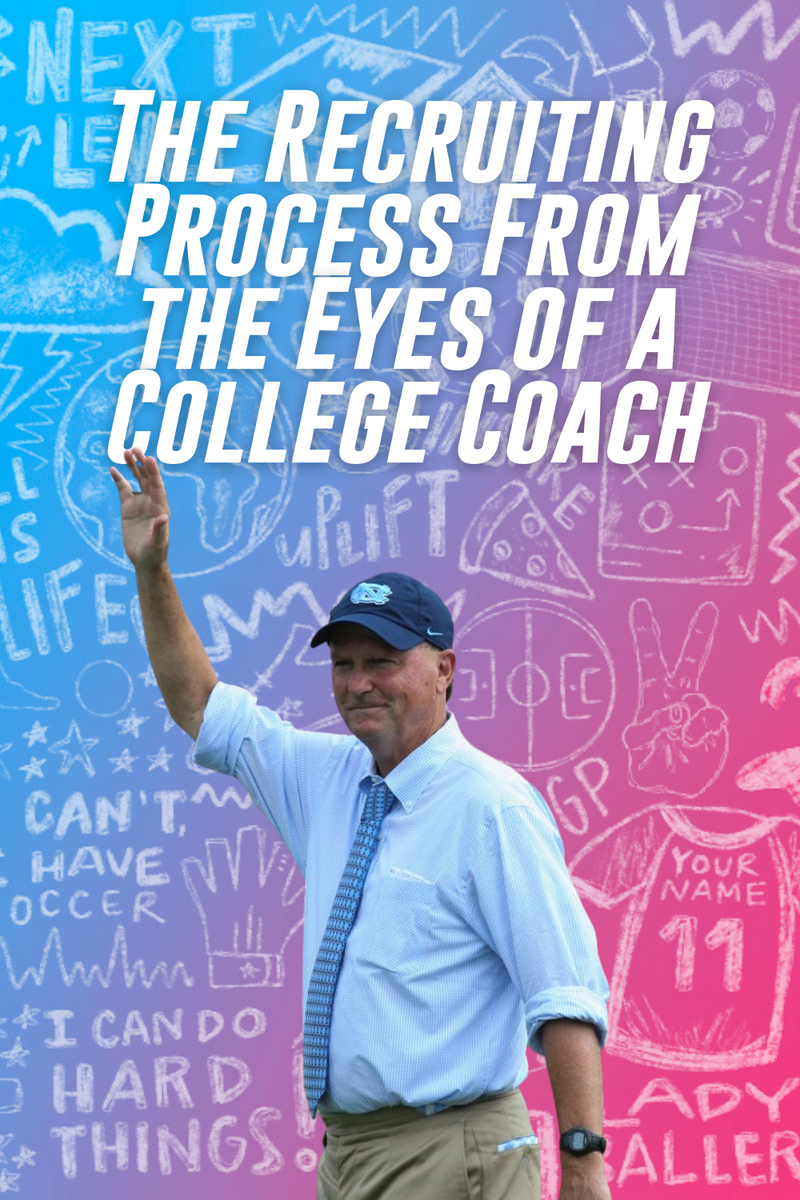 So you want to play college soccer?
That's amazing! Here at Locker Room Talk, we love to hear that ladyballers want to continue their journey as a college soccer player. When it comes to college recruiting, there are a lot of variables, myths, and misconceptions.
We want to help you understand the basics of the college recruiting process from the perspective of college coaches.
First and foremost, LRT Sports is here to help you throughout your process of Understanding College Athletics™.
One way we have been able to do that, is by contacting college coaches across the country to see what their advice is for ladyballers like yourself.
Here are some key takeaways based on what some head coaches have said about the recruiting process, what they look for in players, when you should contact them, and being a college soccer player. 
Q: How can a ladyballer can get on a college coaches radar?
One of the first questions that might come to mind is "how do I get a college coach to notice me?" If you take a look at recruiting, most of it has to do with putting yourself in front of these coaches. Here are some of the most interesting statistics regarding women's soccer according to scholarshipstats.com
9.7% of high school players end up competing in college at any level

2.1% of high school players end up competing at NCAA Division 1 colleges

The odds of a high school player making any college roster are 10:1

Odds of a high school player making an NCAA Division 1 roster 48:1
So from a statistical standpoint, it's pretty hard to be on a college soccer team, but don't let these numbers discourage you. If you work hard, put yourself in front of the right coaches, and keep an open mind throughout the process, you can be part of that small percentage of athletes. We just want to put things into perspective for you, so you understand that the college recruiting process works, only if you put the work into it!
Emailing a college coach and filling out the online recruiting questionnaire (if applicable) is the most effective way to get on their radar. Of course it's great to attend camps and showcases, but as a first step, emailing is the way to go. There are a lot of services that promote connecting players and coaches, but at the end of the day, all coaches want is an email directly to them, which saves you some money! Don't believe us?
Here is what some head coaches have to say about how to get on their radar:
Head Coach Megan Jessee from the University of Rhode Island

 
"I believe that as soon as a potential recruit has an interest in a school, they should start reaching out through email." Full interview
Head Coach Ron Rainey from Dartmouth University
The best way would be through email and that allows us to put them in a recruiting database to get information out to them about camps/clinics and give updates as the NCAA allows." Full interview
Head Coach Adam Denton from Davidson College
"Best way to contact us to send your soccer schedules via email and calling (however, due to NCAA rules, I am limited in when I am able to call back if you happen to leave a message). Be diligent and keep in contact."Full interview
Even though there are rules around when a college coach can contact you, there is nothing that says you can't contact a college coach at any time. The earlier you start this process, the better. Although coaches may not be able to respond, they will still be able to read your email, and they will know that you have a vested interest in playing for them the earlier you reach out. 
Q: What are college coaches look for when recruiting a ladyballer?
When it comes to what a college coach is looking for in a recruit, it is going to vary from coach-to-coach. They might need to fill certain positions at certain times, maybe they are looking to change the vibe of their coaching, or sometimes coaches look to turn programs around and need certain key players to fill those roles. That being said, there are some intangibles that all coaches are looking for such as: good grades, being coachable, willingness to put team first, passion, and body language.
Here are what some college coaches had to say about important qualities that they look for in recruits:
Head Coach Anson Dorrance from University of North Carolina
"Everyone thinks that the most critical element is talent, and it's not. The most critical element is athletic character. So I look for self-discipline, competitive fire, self-belief, love of the ball, love of playing the game, love of watching the game, and grit." Full interview
Head Coach Neil McGuire from UC Berekely
"I think it's fair that all players should be open to playing new positions, and for a few reasons. The first being that it will help the player be more well-rounded in both their understanding of and appreciation for the variety of ways the game can be played. Secondly, it will improve their soccer IQ and technical ability. Third, if it helps the team, that should be their priority. I'd add if a player likes to play soccer and wants to get on the field, having the ability to play in a lot of positions will be of great value." Full interview
Head Coach Lacey Largeteau from Skidmore College
"That coachability factor and we call that character in our program. We're looking for different character traits, so not only are you XYZ soccer player, but probably equal weight is what kind of human are you. Are you coming to our program being a great teammate? Do you have coachability factor? Are you willing to put the team in front of yourself? Those are the kind of different things we're looking for Full interview
Head Coach Ron Rainey from Dartmouth University
"Coaches look for recruits who are ready to balance academics, athletics, and the social part of school while developing in all of those areas through four years."Full interview
Understanding the recruiting process and what college coaches are looking for is a great first step in your recruiting process. It's also a really important step. But you always have to remember that understanding what is best for you is the most important aspect of deciding a college to play for. In part 2 we are going to dive into what college coaches are looking for when it comes to social media, grades, and how involved your parents should be during the recruiting process!
For more college coach advice, college coach ratings, or recruiting information, visit us at LRTSports.com!