Posted on March 19 2021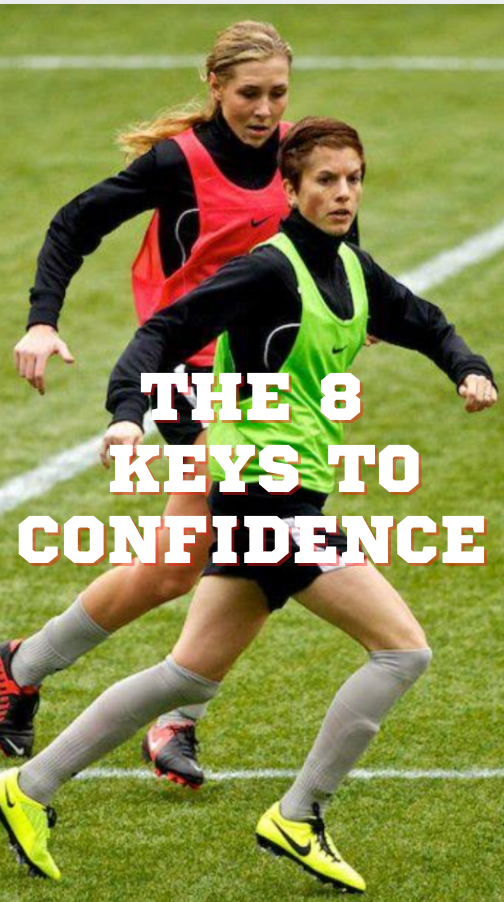 The 8 Keys to Confidence
The author's of Raising Tomorrow's Champions (one of which is former pro, Joanna Lohman) asked the National Teamers for perspective on how to grow and maintain self-confidence for sports and life:
1.LISTEN UP, MOM AND DAD — The benefits of positive messaging begin at home in the formation of a person's self-image. "My parents never told me I was too small to do something; they never doubted that I could do something and having that confidence coming from home made it easier for me to actually be confident everywhere else," said Angie Woznuk Kerr (USWNT 2005-2009). 
2.PREPARE FOR SUCCESS — Staying as fit as possible and practicing repetitively helps the body overcome an anxious mind. "I was nervous every single game, whether it was for the Seattle Reign, for the University of Washington, or for the United States," Hope Solo (USWNT 2000-2016) told a group of Girls Academy players in 2020. "What gave me confidence is just relying on my training. How much you train, how much you enjoy it, how detailed you are, and how detailed your coaches are, means you can always fall back on that if you get nervous."
3.BE OPEN TO NEW EXPERIENCES — Crystal Dunn (USWNT 2013-present) originally felt anxiety when coach Anson Dorrance asked her to play multiple positions at North Carolina. Years later, she is acclaimed on the National Team for her versatility. "I was thrown all over the field and I think I really struggled with a lot of different mental issues. I struggled because, even though he believed that I could handle all of those roles, I didn't believe in myself. I remember him always finding time to put his arm on my shoulder and say, 'You're good. You're great.'"
4.ASK FOR HELP — No one can get through the journey of soccer, a job, or life in general without input and support from others. "Even the best player in the world needs confidence, and I think a lot of people don't realize that," said Lauren Gregg (USWNT 1986). "You can be the best player in the world and begin to question, doubt and need reassurance and validating. It sounds like a little thing, but if you, in any way, let fissure or doubt creep in, or even entertain a negative thought, that would widen the fissure. I feel like that was one of the things that I did very well as a coach, to be matter of fact, to let players know, 'We're prepared, you're ready, and we need you.' So there's just no time to let it fester."
5.READ, LISTEN AND LEARN — Some people are naturally more outspoken and confident than others, but everyone benefits from knowing the facts — on the field and off. "I have unwavering confidence, obviously, whether it's warranted or not. I'm impossible to embarrass," Megan Rapinoe (USWNT 2006-present) told Julie Foudy (USWNT 1988-2004) on Julie's podcast "Laughter Permitted." "But I think I did grow into it by having my experience informed by the National Team, by contract negotiations, by coming out, and by educating myself, reading a lot, listening to people and having thought partners and people who challenge me."
6.EMBRACE FAILURE — Fear of failure is the biggest driver of the lack of confidence, but learning to fail, even to lose, on the field of play can actually help build self-assurance in time. "I failed so many times," said Shannon Boxx (USWNT 2003-2015). "I talk to a lot of businesswomen now about leadership. I think they see me from the outside and they see all my accolades and they're thinking, 'Wow that was really easy for you.' It wasn't. It came after just being torn down a bunch. My mentality was, 'If this is what I want, I have to put everything in. If I still don't make it, well then I at least know that I did everything possible.'"
7.UNDERSTAND YOUR ROLE — The goal may be to be a starter, to score goals and be a star. Learning that all teammates serve important functions, even as supporters, can lead to a bigger role in time. "I knew what my role was and I think that was important," said Tracey Bates Leone (USWNT 1987-1991). "You never want to be completely satisfied. That's OK. So you want to keep working hard and you want to be self-disciplined enough to be ready for your own opportunity when it comes."
8.JUST DO IT — Getting out and playing sports, at any level, has been shown to have numerous benefits for self-image off the field. "When girls play team sports in a socially safe environment, they're more likely to use condoms. They're more likely to delay sexual debut and they're more self-confident," said Lorrie Fair (USWNT 1996-2005). "Physical exercise can help you concentrate more in school, which may translate to better grades. There are so many benefits."
Want to learn more from your favorite USWNT stars? Check out the book Raising Tomorrow's Champions on Amazon.