Posted on January 18 2022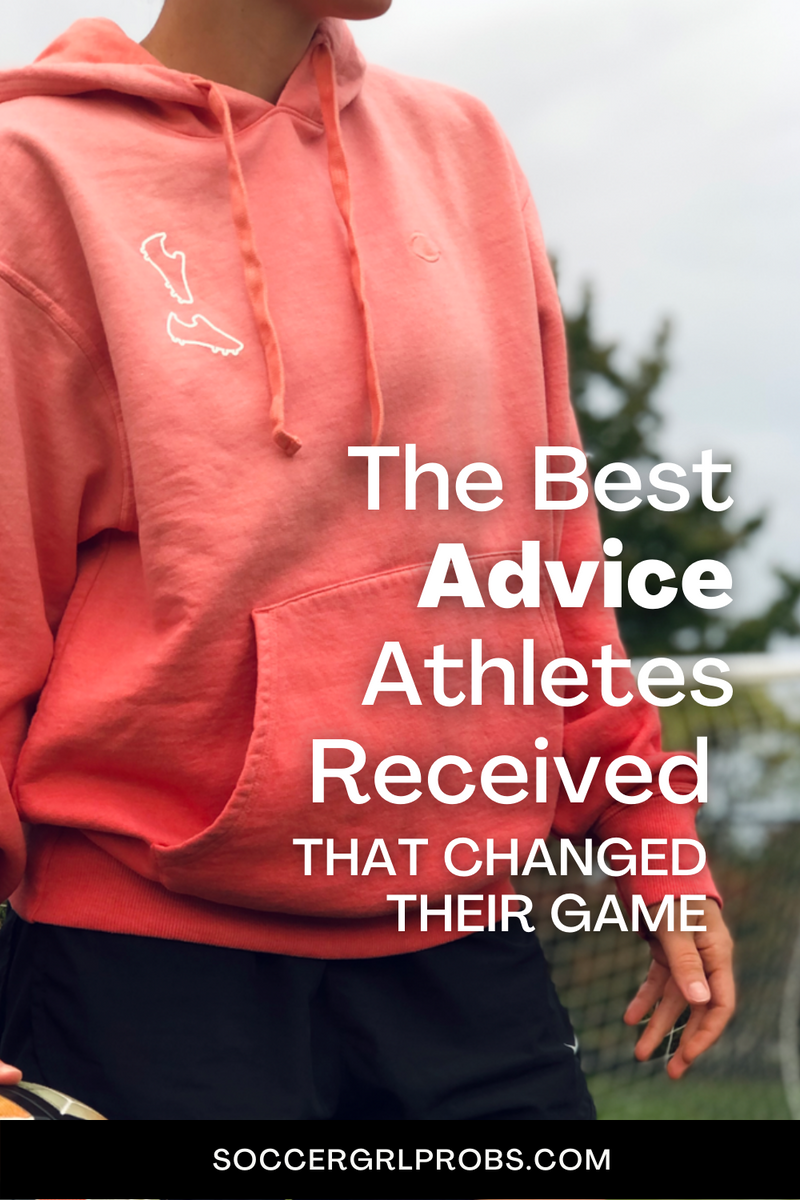 We asked you, our amazing community of current and retired female athletes, about the best advice that you have ever received. You left hundreds of comments that were so inspiring. Here are just a few of our favorites that we wanted to share with you. Scroll for instant motivation.

We had to start with this one. Playing because you LOVE the game and think it's fun is truly the most important thing in the world. If you don't feel this way, then you will not have the the will to win. Don't play because you NEED to win, play because you LOVE the game of soccer and you want to play your best for your team. It's not all about winning :) 


Coaches and teammates don't care if you're making mistakes. We CARE more about how you are reacting to those mistakes. Are you going to lose the ball and just mope around upset? Or are you going to lose the ball and go back and get it? When athletes do this, they are truly game-changers. Pick your head up and go get that ball back for your team!!!!! 


This piece of advice is awesome. Sometimes we can get wrapped up on "being the best, ever" but if you think about it, sometimes it comes off selfish! We have to remember that we want to be the BEST for us and OUR TEAM (emphasis on team). We work as a unit (and are truly like family!!!!) Play for you and your teammates and you'll be unstoppable.


WE LOVE THIS ONE. It's very specific to playing but if you're not making runs and creating space, the whole game is impacted. Be a play creator and find that space!


If you are confident in your abilities, anything is possible. Everything you think about yourself translates to the field! If you think you suck, you will most likely not play well. If you think you CAN, you will. Don't ever give up on yourself and give yourself more credit. 


AMEN. Sometimes as players we think everyone is out to get us. When we make a mistake, people are judging. When a teammate shouts at us during the game, we think they are mad at us. When a coach gives us instruction, we think he or she hates us or thinks that "we suck". We need to stop taking things so personally! It's truly not about US all of the time. It's about the success of the team. Don't overthink things. Accept criticism, learn from your mistakes and move on.


Love this. We can set goals and hope luck is on our side but at the end of the day we need to work for what we want! Without commitment, effort and consistency, our wishes won't come true!
These two are great - The best thing you can do as a player is be COACHABLE and willing to learn from your mistakes. Also, admitting when you're at fault and holding yourself accountable. These are the traits of great players.


We had to add our own tip in here! You know those moments when you make a mistake and you think that everyone is judging you and holding a grudge against you? It's seriously all in your head. The only person thinking about the mistake is YOU...so how long are you going to torture yourself? Let it go. 
PART 2 OF ADVICE COMING SOON!
What advice are we missing? Comment yours below!